Are you trying to pick what technology to utilize while creating a mobile app? React Native is the only option. The capacity to build uniform, high-quality programs for several platforms is a prime factor in the framework's rising popularity among programmers. This article will explain how to hire React native developers and how this will benefit your next project in terms of time, money, and overall user satisfaction. Let's investigate why developing a mobile app with React Native could be the best choice.
Also check the list of Top React Native App Development Companies
Introduction to React Native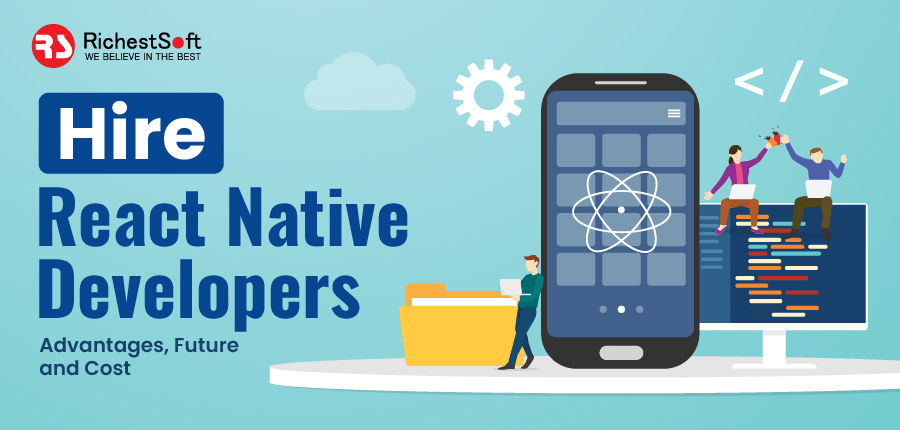 To build native mobile apps with JavaScript and React, the open-source framework React Native is commonly used. Originally, it was seen on Facebook in 2015. Its popularity might be attributed to the fact that it enables programmers to create programs for both iOS and Android from a single source.
With React Native, programmers may reuse code across platforms by drawing on pre-built UI components and APIs that facilitate interaction with the platform's native capabilities. It allows programmers to make apps that function and appear like native apps without maintaining several code bases.
Also read: React Native VS Swift: Which one to choose for Your Next Project?
Advantages of Hiring React Native App Developers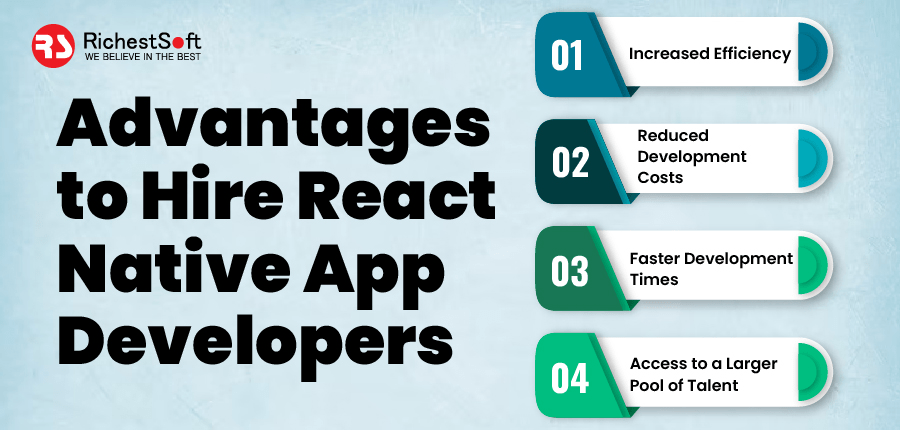 There are several benefits to Hiring React Native App Developers in your upcoming venture. Key benefits include the following:
1. Increases Efficiency of Development
React Native allows developers to build apps using a single code set for several platforms. You may free up your staff to focus on a single codebase rather than maintaining several for different platforms.
2. Reduces Development Costs
You'll spend less on development as React Native developers can create cross-platform applications. You'll save time and money by not needing to appoint different teams of developers for every platform.
3. Rapids Development Process
Developers that use React Native may deliver new features and prototypes far more quickly than those who use traditional development methods. It is because they may save time on the development process by reusing code across platforms.
4. Gives Access to a Larger Pool of Talent
Compared to hiring native app developers, hiring React Native developers gives you access to a broad skill pool. It is because React Native is a widely utilized framework by programmers worldwide.
Also read: Angular vs React: Which one is right for Web Development?
How to Choose the Right Developer for Your Project?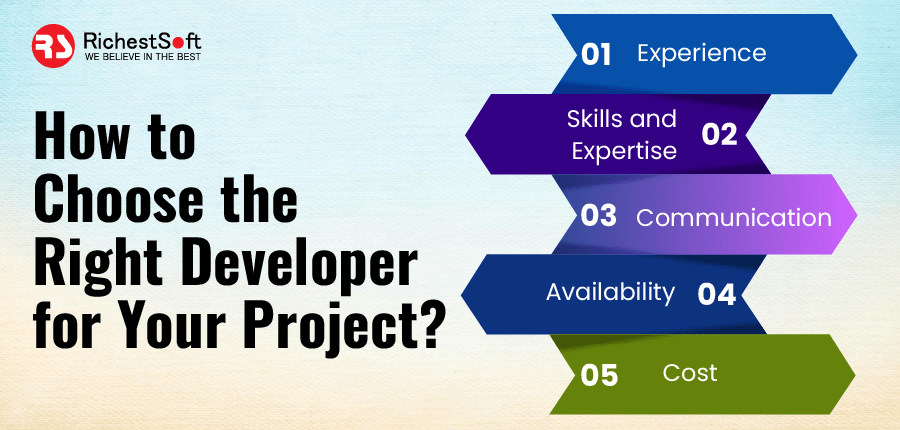 Hire React Native App Developers for your project is a crucial choice that may considerably influence its success. The following important aspects should be taken into account when hiring React Native developer for your project:
✅ Experience – Search for developers that have finished successful projects and have React Native experience. Request references, then look up their testimonials and ratings on websites like GitHub and Stack Overflow.
✅ Skills and Expertise – Ensure the developer you select has the knowledge and experience to construct your project. For instance, if you need a mobile app with a complicated user interface, search for a developer with expertise in modifying React Native UI components.
✅ Communication – Any project's success depends on effective communication. Ensure the developer you select can update you on the project's status and is responsive and communicative.
✅ Availability – There should be no restrictions on when the developer may work on your project during that period. The developer needs a quiet, pleasant space to work in if the project is to be finished on time.
✅ Cost:- Think about how much the developer's fees will add to the total price of your project. But remember that sometimes the least expensive choice isn't the best. Look for developers with the qualifications to generate a high-quality project and charge reasonable fees.
Hiring the best React Native developer for your project necessitates carefully weighing their experience, talents, competence, communication, availability, pricing, and cost-effectiveness. You may select a developer who is most prepared to satisfy the unique requirements of your project and assist you in achieving your objectives by carefully weighing these aspects.
Trending now: Top 10 ReactJS Development Companies to Elevate User Experience
Average Cost to Hire React Native App Developers
Several variables, including the developer's location, experience level, and project complexity, might affect the value of hiring a React Native developer. The typical hourly prices to hire React Native app developers in various areas are estimated as follows:
North America: $100-$200 per hour
Europe: $80-$150 per hour
Asia: $30-$80 per hour
Remember that these are only broad estimates, and the actual cost may vary significantly based on the developer's expertise and your project's particular specifications.
It is also important to remember that definite developers could bill a set fee for the full job rather than charging hourly rates. Size, complexity, developer experience, and expertise determine fixed-price project pricing.
Project management, testing, and deployment, in addition to the React Native developer's hourly rate, must be considered. Consider these costs when estimating the project's total cost.
Hiring a React Native developer is expensive, but if the project succeeds, it may pay off. To ensure a developer can deliver a high-quality solution that meets your needs, carefully evaluate their cost, experience, and skills.
Future of React Native Development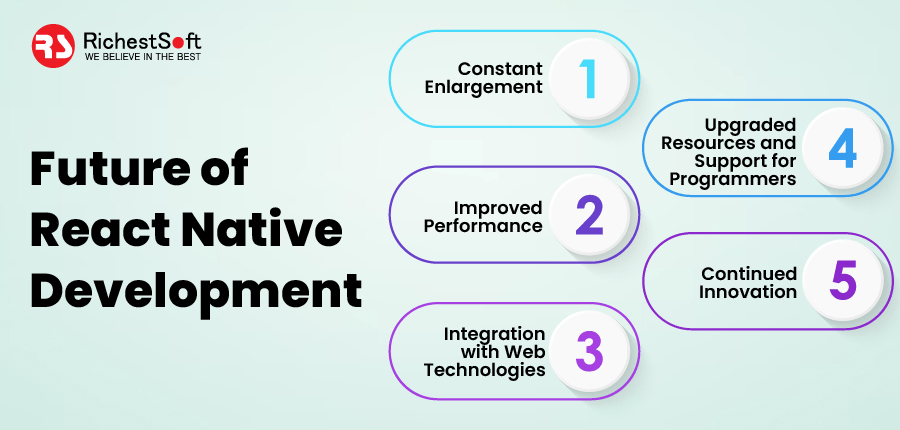 A bright future is ahead for the cross-platform mobile application development framework React Native. The future of React Native development may be affected by a number of the following movements and changes:
👉Constant Enlargement – Quicker development times, cross-platform compatibility, and a sizable developer community are just a few reasons why more developers and businesses will begin utilizing React Native shortly.
👉Improved Performance – React Native's speed is still being worked on, including displaying huge lists more quickly and optimizing the link between JavaScript and native code.
👉Integration with Web Technologies – As web technologies like Progressive Web Apps (PWA) and WebAssembly become increasingly integrated with React Native, creating cross-platform apps that function seamlessly on the web and mobile devices will be simple.
👉Upgraded Resources and Support for Programmers – React Native's developer experience is sometimes refined, with recent updates focusing on improved debugging and deeper interaction with established development workflows and tools.
👉Continued Innovation – The React Native community is incredibly vibrant and actively developing new tools and features all the time. New features like support for concurrent rendering and React Native Fabric will probably be implemented.
Also read: The Future of React JS: Is It Still a Viable Framework?
FAQs
How do I hire a React native developer for my project?
Consider experience, abilities, competence, communication, availability, and affordability when selecting a React Native developer. You may hire a React native developer who meets your project's demands and helps you reach your goals by carefully examining these aspects.
What type of projects is ideal for React Native?
React Native is perfect for developing cross-platform mobile apps with a native-like user experience and a rapid development time. It's effective for advanced programs that require instantaneous updates or constant synchronization with a server in the background.
Why use React Native to build cross-platform apps?
React Native speeds up, cheapens, and simplifies cross-platform mobile apps. Sharing code between platforms saves time and money. 
How can I ensure that the React Native developer I hire delivers a high-quality product?
Communicate your project needs clearly, offer frequent feedback, and test the application to guarantee that the React Native developer you employ produces high-quality output. Check references and portfolios to choose a developer with a track record of high-quality work.
CONCLUSION
React Native is a dynamic technology that has completely changed how programmers make mobile applications. You may benefit from all of React Native's features and capabilities, including cross-platform development and quicker loading times, by hiring React Native Developers. Due to its popularity among developers, several skilled experts can help you get the most out of your app development project accessible for hire. With these benefits in mind, it's simple to understand why any plan for developing mobile applications should include hiring React Native Developers.