Industry 4.0 and the Internet of Things are two buzzwords that are becoming more popular. They are developing innovative technical approaches to Industry automation development, production, and management.
According to Statista, the Microsoft Azure platform is the leader globally for edge data processing, an increasingly important feature of IoT platforms worldwide.
Facts to Consider:
The Internet of Things (IoT) is the foundation for numerous enterprises to digitally transform. Thus, they will be able to improve existing processes by developing and tracking new business models. So, you must be aware of the changes that are taking place in the industry. Hence, we at Just Create App came up with the platforms that can help you in building IoT products.
I am sure you are excited to read the same. So, let's begin with the topic.
In this article, I will discuss the top 15 IoT cloud platforms. Here, you will get a complete idea of cloud platforms for IoT. Our team of technology experts has made it easy for you.
Also read: Top 10 Fastest Growing IoT Companies
What Are The Top Cloud Platforms For IoT?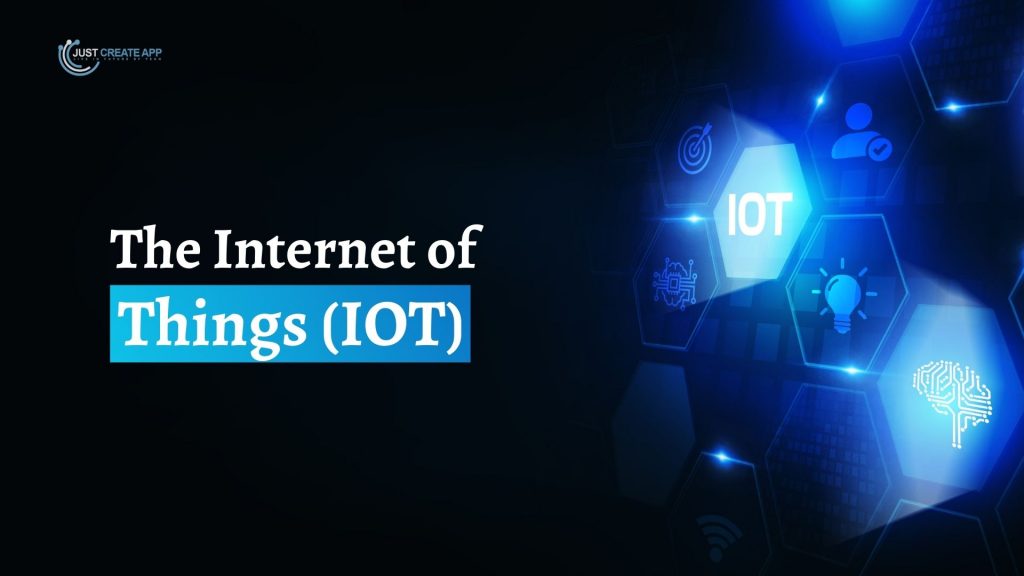 Now, Let's look at the top cloud platforms for IoT that can help you in building your product in a much more efficient way.
1. Microsoft Azure
The Microsoft Azure IoT hub was created to meet the needs of various industries. It includes remote monitoring, smart spaces, and predictive maintenance. It offers protection and scalability. So, for any type of business, Microsoft Azure is a great option. Despite its complexity, the Azure IoT hub design may be used by both beginners and specialists.
Also, Azure moves your company's computing from your office to the cloud, it requires specialist maintenance, monitoring, and patching.
2. Amazon AWS
So, this IoT platform has 190 nations as users. It offers easy interfaces with other popular AWS services. It includes Amazon's vast storage, computational capacity, and strong AI capabilities.
AWS IoT connects your IoT devices to other IoT devices and AWS cloud services. Device software from AWS IoT can help you integrate your IoT devices with AWS IoT-based solutions. If your devices are compatible with AWS IoT, AWS IoT may link them to AWS cloud services.
3. Huawei
Connect any number of IoT devices to the cloud with ease, manage them visually, integrate and analyze data, and trigger open features for service creation. The problem of device fragmentation is important. Long times of connectivity are caused by several protocols and sophisticated standards. Device management is inefficient, device access is ununified due to disparate access networks, and connections are unstable. Devices are disconnected from one another, and event processing is rigid.
Also, distant O&M reduces labor costs by allowing O&M staff to collect device fault logs, locate issues, restart devices, or restore a device to factory settings from a remote location.
4. PTC
PTC announced today that the next edition of its market-leading ThingWorx Industrial IoT platform will be available soon. ThingWorx 9.0 will bring new and enhanced functionality to assist industrial enterprises to build, implement, customize, and scaling their solutions across the industry value chain, with the goal of accelerating industrial IoT deployments across the corporate value chain.
ThingWorx was the first platform to focus solely on digital transformation use cases in the industrial market. Thousands of industrial firms, including discrete product and process manufacturers, have successfully utilized ThingWorx to optimize business processes, improve manufacturing operations, modernize field service delivery, and more since its first debut. ThingWorx is a critical platform for delivering Industrial IoT solutions at scale and across the enterprise, allowing businesses all over the world to gain a competitive advantage and save money.
5. IBM Watson IoT
The Internet of Things (IoT) is the collection and exchange of data by billions of physical devices around the world that are now connected to the internet.
Businesses may gain useful insights into practically every area of their operations and create innovative, new business models by merging IoT data with IBM Cloud technology.
They provide a clear and easy user interface that allows you to quickly add and manage devices, regulate access to your IoT service, and track your consumption.
It's a fully managed, cloud-hosted service that makes getting value out of your Internet of Things devices straightforward. Device registration, connectivity, control, fast viewing, and storage of Internet of Things data are some of the features it offers.
You can easily connect to IBM Cloud's Watson IoT Platform, then set up and manage your IoT devices and data to begin developing your own applications, visualization dashboards, and mobile IoT apps.
You can find the cognitive APIs, Weather Company data, blockchain, and other tools and services you need to build your IoT apps here.
With a natural speech interface or image recognition, you can improve the user experience.
Also read: What is Decentralized Autonomous Organization (DAO)?
6. Google Cloud
The Google Cloud IoT Core is a significant service supplied by Google in the realm of IoT. Google Cloud IoT Core is a fully managed service that allows us to connect, manage, and ingest data from internet-connected devices safely and quickly. Other Google Cloud Platform services can also use to collect, process, manage and visualize IoT data in real-time.
Google's Cloud IoT Core service is one of the company's Internet of Things offerings. It comes in handy when we have thousands of devices linked to the internet and want a highly scalable and managed service, such as cloud IoT core. One of the best aspects of cloud IoT core is that it handles data load balancing and scaling automatically.
The best aspect of using the Google Cloud Platform is that it offers unique Big Data, Artificial Intelligence, and Internet of Things capabilities. Also, scalability is a crucial problem while constructing a business, therefore GCP met the project's requirements thanks to its serverless architecture.
7. Cisco Kinetic
Cisco, the world's largest networking hardware business, is surprising in its slow recognition of the strength and existence of IoT. While work with IoT platforms had been done in the past, it wasn't until early 2016 that Cisco made its first public move into the IoT sphere with the acquisition of Jasper, a company that built a cloud-based IoT software platform designed to help product businesses transition into IoT service businesses.
Nonetheless, the shift to IoT was significant, with Cisco out-investing its competitors by a considerable percentage. With Jasper's updates and the recent introduction of Kinetic, Jasper's founder and CEO continues to spearhead Cisco's IoT strategy today.
8. Software Cumulocity
We understand that IoT initiatives can be challenging. As a result, the Cumulocity IoT platform simplifies things for you by providing self-service tools and a configuration-driven approach.
Cumulocity IoT is a premier self-service IoT platform with a high ROI, as rated by independent analysts. Connect and manage your devices, develop IoT apps rapidly, analyze and exploit IoT data across your business. Also, run your IoT at the edge, in the cloud, or on-premises… your option!
9. Baidu
Baidu is a Chinese internet services company. They are planning to expand their footprint in the Internet of Things (IoT) with a number of new projects.
According to Bloomberg, the company intends to collaborate with speaker manufacturer Harman International Industrial to develop a smart AI device akin to Amazon's Echo that can interpret spoken words and allow customers to instruct it to order meals, summon a cab, or operate smart home items.
According to Fortune, the Chinese company is also collaborating with chipmaker Nvidia to develop a computer platform for self-driving cars and cabs that will include cloud-based HD mapping.
10. Alibaba Cloud
Alibaba Cloud IoT Platform enables IoT businesses to maintain consistent connectivity between devices and the IoT Platform. Devices all around the world can connect with the IoT platform quickly and with minimal latency thanks to nodes installed globally. The Alibaba Cloud IoT Platform also includes a number of security features that ensure the security of individual devices as well as safe communication between devices and the IoT platform.
The data storage and processing capabilities of Alibaba Cloud's IoT Platform, which allow for the integration of APIs and other Alibaba Cloud services, are critical. Finally, the Alibaba Cloud IoT platform is highly flexible, with a rules engine that allows for rapid data analysis, storage, and application creation.
11. WebNMS
WebNMS, Zoho Corporation's IoT software subsidiary, is a leading developer of enterprise IoT platforms and solutions that maximize the value of linked business infrastructure.
The WebNMS technology is intended to optimize company operations by reducing energy costs and managing regionally scattered capital-intensive equipment. As a market leader, WebNMS promotes an enterprise-ready IoT ecosystem through its channel partners, which include System Integrators, software developers and resellers, sensor and gateway manufacturers, and telecom carriers.
WebNMS IoT platform is developer-friendly, adaptable, and designed with features that improve efficiency, reduce expenses, and optimize returns. EdgeX, the built-in, multi-device compatible data agent, improves data collecting and processing, speed to market, and development, giving it a competitive advantage.
12. Arm Pelion
The Arm Pelion IoT platform provides the building blocks for their clients to create full-stack IoT solutions and expand into new areas.
The Pelion IoT platform assists smart metering suppliers and utilities in the deployment, connection, security, and management of next-generation advanced metering infrastructure (AMI). Hexing is the most recent example of this, as they are employing Pelion Device Management and standard-based Wi-SUN compatible connection to access new and emerging countries such as South East Asia, India, South America, and Europe with their smart meters and AMI solutions.
Wi-SUN enables significantly lower operational costs for large-scale device deployments, which are crucial for these industries, by providing a mesh network architecture that reduces direct cellular connections for devices without sacrificing bandwidth, throughput, or security. Pelion Device Management assures that these smart meters may be maintained and updated over the air for the duration of their multi-year lifecycles.
13. SAP
The Internet of Things (IoT) is a game-changing technology. It automates data retrieval, storage, and analysis for event monitoring and predictive analysis. Combining IoT with SAP capabilities can result in a single data-centric ecosystem that can boost digital transformation journeys through automated data integration, real-time monitoring, and simplified business processes.
As firms strive to keep their SAP ERP systems efficient and cost-effective, smooth data connectivity is becoming a key emphasis area. Integration of IoT with SAP not only streamlines data transfer but also gives insights to spot behaviors and patterns. It can then be used to assist business learning, decision-making, and performance uptime.
14. Nutanix
Xi IoT provides AI-driven processing at the edge via a zero-touch software platform. It enables real-time business intelligence and simplifies operations at a global scale. The Nutanix IoT platform provides edge devices with local processing, machine learning, and intelligence. Thus, It provides simple efficiency and scaling for your IoT operations.
Deploying machine learning models on edge devices, assessing data from sensors, and executing appropriate management actions is a difficult process. For starters, it necessitates competence in a variety of fields, such as machine learning and embedded systems. Second, different edge devices come with a varied set of development tools, which leads to frequent data format clashes. Nutanix has now released its Xi IoT platform. The Xi IoT platform provides a low-code architecture for edge and cloud computing. It allows developers to focus on business logic rather than solving edge and cloud development or communication issues.
15. Cloudera
With over 30 billion devices connected to the Internet, IoT offers a huge challenge for companies in properly ingesting, processing, managing, storing, and driving insights from all of the data generated by connected devices and assets.
Cloudera shines in this area. Cloudera provides the tools and solutions you need to extract insights and value from all of the data generated by IoT.