Hello, welcome to the future!
Future? Strange isn't it, but yes at Just Create App we live in the future and also guide you on the perfect path.
I am sure you will get the most out of the top 10 fastest growing IoT companies. Additionally, you will also learn about how these companies can help you. Now, without wasting any time, let's begin.
Quick Overview About IoT:
The Internet of Things, or IoT, refers to the billions of physical devices around the world that are now connected to the internet. They are all collecting and sharing data.
We may track or operate an IoT device from a remote location.
The Internet of Things is bringing the digital and physical worlds together. The reason is to make the world around us smarter and more responsive.
Also, IoT is satisfying almost all our needs without taking much help from us.
Alexa, smart bulbs, auto-drive cars, automated homes, and offices are examples of IoT.
Also Read: Top 10 Ways to Earn Money In Metaverse
IoT Predictions, Trends, and Market
Now, let's look at some predictions and trends of IoT. Then we will look at the fastest growing IoT companies.
According to Insider Intelligence, there will be more than 64 billion IoT devices on the planet by 2026.
Also, from 2018 to 2026, companies and individuals will spend $15 trillion on IoT devices.
There will be a renewed emphasis on security in the Internet of Things market.
IoT and edge computing technologies will lead to the development of smart cities.
There will be a rise in the Private Cellular Networks.
Sectors That Can Benefit the Most from IoT Development in 2022
To provide a better customer experience, businesses are using IoT technology. Also, there are many other uses. I am listing a few of them here:
Home (commercial or end-user): Home automation and energy management are becoming more common.
Medical and health. IoT is helping doctors and medical professionals in treating patients with ease.
Manufacturing Industries: You can see that industries are adopting automation at a high pace.
Retail. IoT and big data analytics have found extensive use in retail sales and markets.
Agriculture: The whole world has a demand for innovation in IoT in Agriculture and its shaping lives.
Also Read: Top 10 metaverse development companies
Top 10 Fastest Growing IoT Companies
Let's discuss the top 10 fastest growing IoT companies. Here you will get to know about several parameters by which we decide who are the best.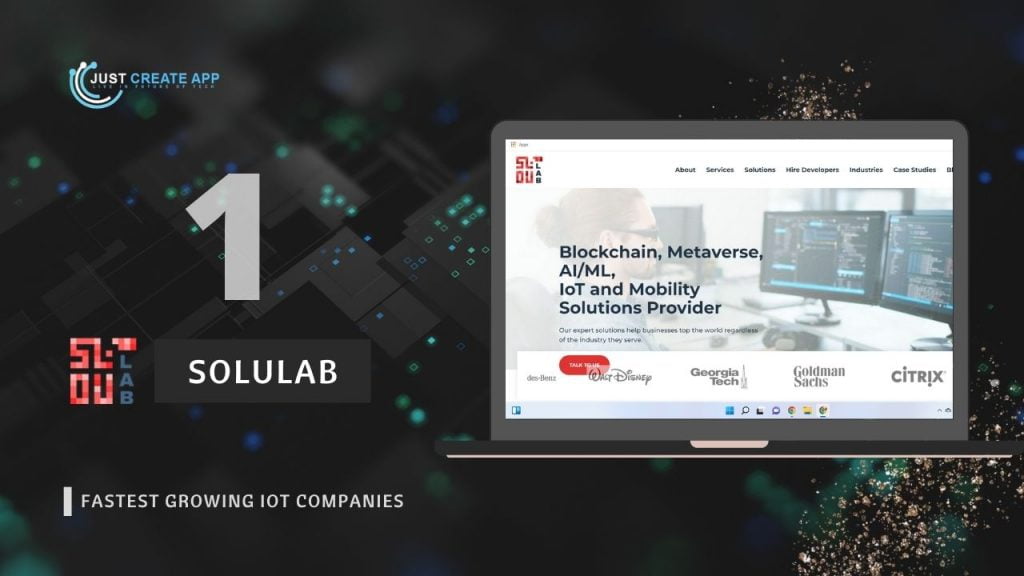 Solulab is a worldwide recognized IoT development service provider with offices in the United States of America, Canada, India, and Australia. They are also the fastest growing IoT companies of the world. They assist clients in increasing their efficiency and global competitiveness. Also, they help you build an innovative mobile application by providing end-to-end application development services, including Android application development and IOS app development, at an affordable price.
Global technology and innovation business Solulab stands for advancement and provides customers with flexible and fast deployed end-to-end IoT development solutions, Blockchain app development, AI and machine learning etc.
Services Provided by Solulab:
Android App Development Internet of Things CRM Development E-commerce Development iOS App Development Mobile App Development Web Design Web Development.
Yalantis is a software engineering and IT consulting firm with 13+ years of expertise with development centers in Cyprus and Ukraine. With an annual growth rate of 74 percent and 530+ Yalantis experts, Yalantis is constantly expanding. Also, it's among the fastest growing IoT companies.
Yalantis is a powerful innovation partner and one-stop development shop, assisting clients in developing software products, augmenting teams, and upgrading existing systems in order to maximize corporate value and achieve long-term growth.
Toyota Tsusho Corporation, KPMG, Zillow, RAKwireless, Orbis Systems, and Healthfully are some of their most important clients.
Yalantis tech expertise includes:
Cloud and DevOps transformation;
Site reliability engineering (SRE);
Business intelligence (BI), analytics, and big data solutions;
Data science;
Artificial intelligence (AI);
Machine learning (ML);
Robotic process automation (RPA);
Internet of things (IoT);
Cybersecurity;
High load systems;
UI and UX design.
They also provide complex solution packages: SaaS development, End-to-end business solutions, Digital Transformation, Mobile software products.
The industries they serve are healthcare, supply chain management, FinTech, telecommunication, and real estate.
3. Techahead Corp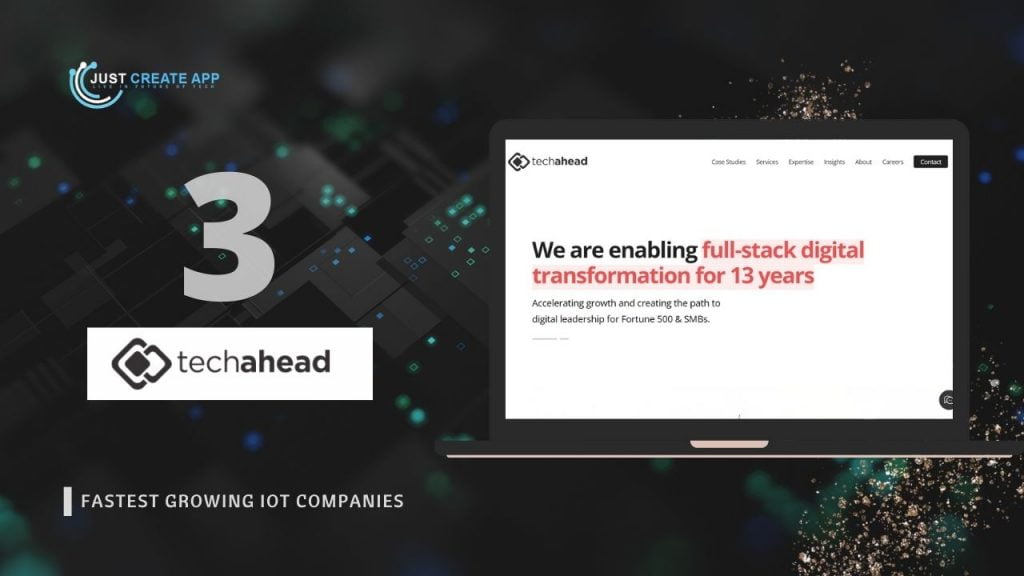 Techahead describes itself as a company that specializes in custom software development and consulting. They have offices all over the world and have worked with a wide range of clients, including those in e-commerce and machine learning. Mobile app development accounts for more than a third of their work. IoT, healthcare, manufacturing, education, retail, and engineering are some of their industry verticals. They can also advise you on your mobile strategy for designing and launching your Android or iOS app, based on their years of experience. Techahead provides 24/7 monitoring and regular updates after delivery.
Founded in 2009 Offices in India and the US Team of almost 150 employees.
Intuz is a leading mobile app development business with a world-class technical staff dedicated to providing a stable foundation as well as strategic and operational management. The mobile app development firm also offers IoT development, workplace mobility, cloud, and app marketing services. This mobile apps company's clients like its development partners because they are quick, responsive, and extremely flexible, and they take a serious consultative approach to completing their mobile app development projects.
With 1000+ thriving projects, it is among the fastest-growing IoT companies, spread across two locations (India and the US).
Average Hourly Rate $20 – $24 Employees Employees 10 – 49 Location Location USA Founded In 2014.
5. Table XI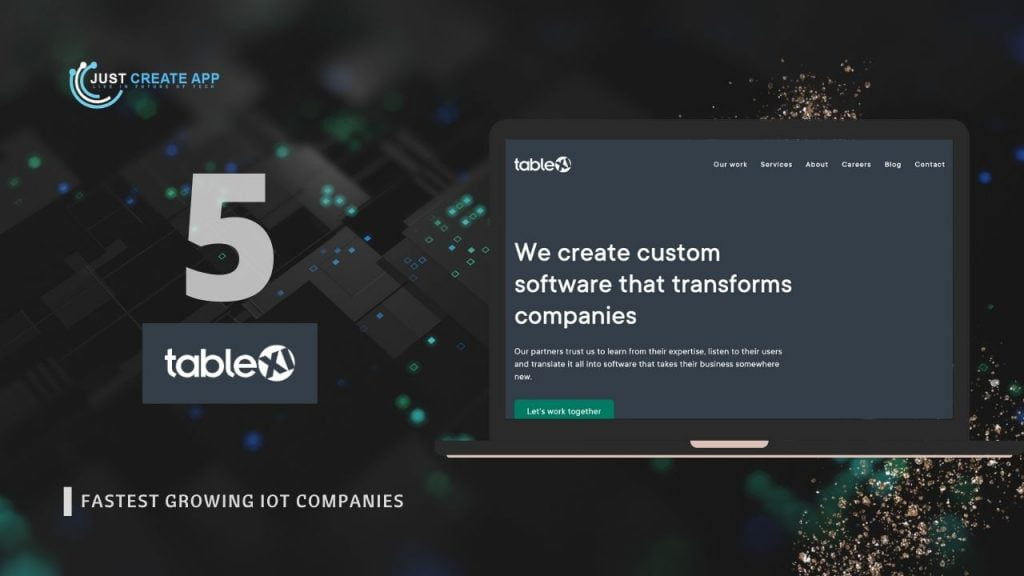 Table XI is a mobile app development business with experience working with clients ranging from startups to Fortune 500 companies. The react native developers have built long-lasting partnerships in a variety of industries, including healthcare, education, IoT, and eCommerce, with over 17 years of industry expertise. Table XI has been named Chicago's best custom software development company.
They've built scalable apps in a variety of areas, including entertainment, IoT, fintech, health & wellness, social media, and more, with a team of over 100 developers, strategists, designers, and testers. Oragnesoft has grown in popularity globally thanks to its concentration on full-cycle development services and meticulous attention to detail.
6. Atomic Object:
This iPhone app development firm is a software development firm that builds custom apps and software for the web, mobile devices, and the Internet of Things (IoT). This iOS development firm has been assisting organizations innovating and growing with digital solutions that are smooth, trustworthy, and simple to use since its establishment in 2001. The experts at iphone app development firm will assist you in reducing risk, making smart trade-offs, and obtaining the highest possible value project within your budget. Regardless of the industry, they will assist you in disrupting the status quo and distinguishing their clients from the competitors.
The Internet of Things (IoT) is sweeping the globe. Do you want to be a part of this multibillion-dollar industry and reap the rewards? Appdupe is a company that offers an end-to-end mobile app and IoT development services. Join us to create world-class IoT apps or NFT on the blockchain of your choice that enables you to realize your business goals.
A marketplace for clones of popular mobile and online apps that have been carefully curated. It's all about making things happen. The question that drives us is, "What would YOU do if you were handed a Billion Dollar Company's Technology to play with?" We provide you with the opportunity to do so.
8. DataArt
DataArt is a Newyork-based software development firm. It was established in 1997. They currently employ around 3,000 people. They primarily work with mid-market and small-business clients in the IoT, healthcare, finance, and information technology industries.
DataArt is a technology consulting firm with offices all over the world. Most importantly, they help clients build, develop, and grow their businesses. They do, however, have highly skilled engineers all around the world.
9. Intellectsoft
They are Palo Alto's leading software development firm and boutique digital transformation consultancy. Intellectsoft helps over 500 companies and enterprise clients with cutting-edge engineering solutions. They've been a dependable software engineering partner for world-class brands since 2007. Intellectsoft has offices and software development facilities located all over the world. They have great software development operations in the United Kingdom, the United States, and a number of other nations. As a result, you can quickly contact them for software development services in your area.
10. Indeway Organization
Indeway creates safe and scalable IoT software for the Internet of Medical Things (IoMT), Industrial IoT (IIoT), smart cities, fleet management, smart linked devices, and other applications.
Indeway provides the following specialized IoT services:
Strategic IoT planning, architecture design, and tech stack selection are all services provided by IoT consultancy.
IoT development includes device/sensor connectivity, data streaming, storage, and analysis from sensors and smart devices, IoT control applications, and user app development.
IoT analytics services (including IoT analytics as a service): development and maintenance of end-to-end IoT analytics solutions, as well as a subscription-based IoT analytics service for acquiring IoT insights without the need to establish an analytics solution.
Technical assistance and troubleshooting, cloud and security management, and IoT solution evolution are all examples of managed IoT services.
Also Read: Best Node.Js Development Companies In USA
To Sum It Up:
The Internet of Things is a fast-moving market. It provides businesses with limitless options to increase efficiency, transparency, security, and resilience. However, the development of IoT systems frequently necessitates the resolution of a number of architectural and technical issues, such as connectivity, data security, scalability, and reliability.
When compared to standard application development, IoT app development is a completely different ballgame. That's why our IoT services take into account the complexities of an IoT ecosystem, as well as the evolving hardware and software requirements that allow for a seamless user experience for IoT applications.
FAQ's
What is IoT and how does it work?
The Internet of Things (IoT) is a network of physical objects—"things"—embedded with sensors, software, and other technologies to connect and exchange data with other devices and systems over the internet.

Physical things can share and collect data with minimal human interaction thanks to low-cost computers, the cloud, big data, analytics, and mobile technologies. Digital systems can record, monitor, and alter each interaction between connected things in today's hyperconnected environment. The physical and digital worlds collide, but they work together.
What is the average time to build an IoT product?
The average time taken to build an IoT product is 30 to 45v days. Also, it depends on the complexity of the app. The more resources required the more time it will take.