Let's check the list of top offshore software development companies in 2023.
It's not a secret that offshore software development has become a popular trend in the IT sphere. Today, you can get almost anything produced overseas, from accounting and HR management systems to games and mobile apps for any phone or tablet. The fact is that there are plenty of offshore companies which provide outsourcing services at affordable rates, or even for free. It all depends on what you want from them. If you hire them to develop your website, they'll take care of everything: programming and design included. However, if you need something more specific than a website (e.g., an app), you'll have to work with several different companies.
In any case, the most important thing when it comes to working with an offshore company is to find a reliable partner. And that's where our list comes in. We've compiled a list of the top 10 offshore software development companies that you can trust.
Also Read: Top 20 Onshore Software Development Companies
Keep in mind when it comes to selecting an offshore software
Make sure to do your research When it comes to finding an offshore software development partner, it's important to do your research. There are a lot of companies out there that claim to be the best, but not all of them are created equal.
Look for a company with a good reputation One of the most important things to look for in an offshore software development company is a good reputation. A company with a good reputation is likely to be more reliable and to deliver better quality work.
Choose a company with experience. Another important factor to consider is experience. A company with more experience is likely to have a better understanding of your needs.
Make sure the company fits your needs. Not all companies offer the same services, so you'll want to make sure to find one that can meet your specific needs.
Ask for references Finally, when you're looking for an offshore software development company, be sure to ask for references. A good company should be able to provide you with a list of references from previous clients.
These references can give you an idea of the quality of work that the company is capable of. Furthermore, you can also contact these references to get a first-hand account of their experience working with the company.
List of the Top 10 Offshore Software Development Companies
There are several reasons for this, including the fact that it can be a cost-effective way to finish work. However, there are also some risks with offshore software development. In this blog post, we will explore the top 10 offshore software development companies and some of the risks to consider before working with them.
Rank #1. Admios: Offshore Software Development Company
Admios is an offshore software development company based in Eastern Europe. They have a software development team with expertise in building web and mobile apps for companies around the world, including Forbes, Nike, and Procter & Gamble. The team of 500-plus developers has been working together for more than 12 years, so they know what it takes to build and ship great products. They work remotely with clients located all over the world from Australia to Argentina. A large part of their business comes from referrals by existing customers, who continue to trust us with their projects year after year. That's why they focus on long-term partnerships with their clients wherever they are located whether that's New York City or Sydney.
Also Read: Best Node.JS Development Companies in USA
Rank #2. Appinventiv: Offshore Software Development Company
Appinventiv is a US-based outsourcing company that provides software development services to startups and Fortune 500 companies. The company which started its journey back in 2015, today stands strong at 1000+ tech experts, engineers, and professionals striving towards bridging the gaps between client ideas and reality. The sole aim is to facilitate a rich customer experience and smarter, innovative solutions through on-time delivery and post-development support. They have so far delivered 1000+ projects successfully. The company has on-board disruptive technologies such as Blockchain, Artificial Intelligence, Machine Learning, Internet of Things, among others.
Rank #3. Resulticks: Offshore Software Development Company
Resulticks is a leading offshore software development company that specializes in mobile apps, web, and desktop software. They've helped businesses of all sizes create applications since 2011, and they're proud to continue supporting their clients with flexible pricing packages that allow them to develop their products without breaking the bank. Resulticks offers additional services such as maintenance agreements, daily backups, bug fixing, and updates. You can even add custom features to your application if you need something more complex! Their affordable pricing plans make it easy for startups to get started on building their idea without breaking the bank. They know how hard it is to obtain funding for your idea, so we want to help you get started.
Also Read: Top 10 Best Healthcare Software Development Companies
Rank #4. Boldare: Offshore Software Development Company
Boldare is an offshore software development company based in Poland. They are a team of highly experienced, innovative, and passionate software engineers who pride themselves on our industry-leading solutions. The exclusive Boldare eLearning platform brings together our off-shore software development team with some of the most talented individuals from around the world. Boldare is committed to providing clients with top-quality service at affordable prices. Their goal is to provide you with high-end custom-made products and services that will increase your productivity and help build your business.
Rank #5. Simform: Offshore Software Development Company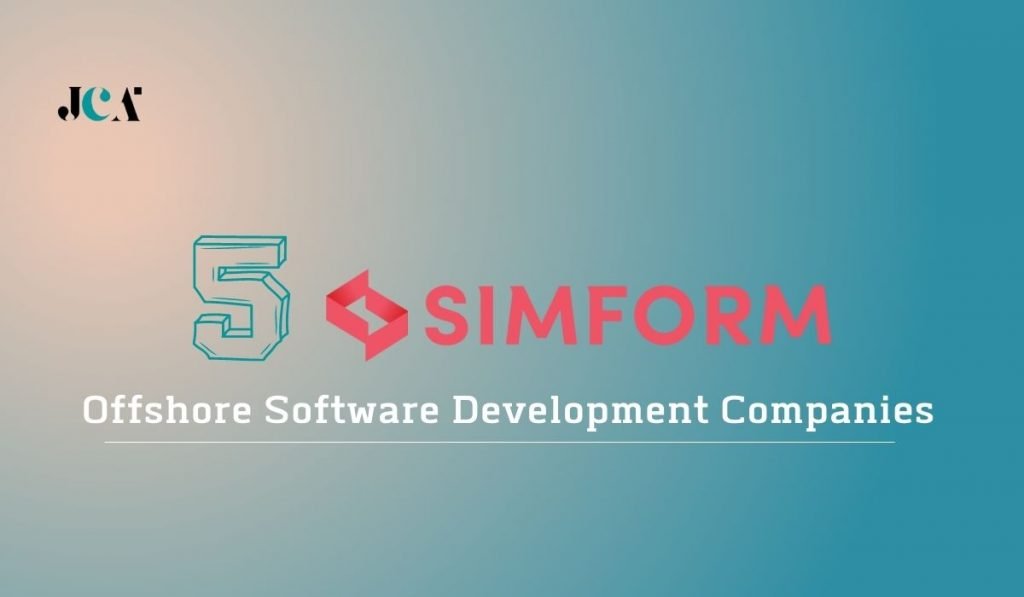 Simform is a software development company that delivers high-quality products and services. They have over 15 years of experience in offshore software development and they have completed more than 500 projects for clients all around the world. They are based in Sofia, Bulgaria and our team members speak English fluently. You can hire us at any time or if you are not sure about what you need yet, feel free to contact us and we will help you decide.
Also Read: Top 10 ReactJS Development Companies to Watch in 2022
Rank #6. EvaCodes: Offshore Software Development Company
EvaCodes is a full-service software development company with 5+ years of experience in offshore software outsourcing. Their team consists of dedicated, mature, and highly skilled professionals.
At EvaCodes, they are here to help you achieve your goals by providing high-quality services at affordable prices. Each member of their team has more than five years' experience in offshore software development. They have worked on projects for clients from around the world including Australia and the United Kingdom. Whether you need assistance with a complex web application software development or website maintenance service, EvaCodes can help you meet your goals and exceed expectations!
Rank #7. VironIT: Offshore Software Development Company
VironIT is an offshore software development company headquartered in New York City, with a development office in Odessa (Ukraine). They also provide custom software solutions based on Ruby on Rails technology.
It delivers solutions for business and personal use. Their main focus is on the creation of mobile software for Android, iOS, Windows Phone, and BlackBerry devices, as well as desktop software for Windows and Mac OS X. They also offer web design services. At VironIT their goal is to help you create your vision by creating efficient, high-quality digital products that meet your expectations. Pricing depends on the needs of our client and can be discussed during a consultation.
Also Read: Top 10 Fastest Growing IoT Companies
Rank #8. Baunfire: Offshore Software Development Company
Baunfire is an offshore software development company with a highly experienced and qualified team of experts. They work hard to deliver high-quality products at competitive rates to our clients in the most efficient way possible. They have completed over 700 projects for businesses around the world, spanning more than 50 industries and 25 countries. If you're looking for top-notch software developers with a proven track record of success, look no further than Baunfire.
Rank #9. CHI SOFTWARE: Offshore Software Development Company
It is a software development company that provides software outsourcing services to customers worldwide. CHI has been in business since the early 90s and they have been delivering top-quality software products from their offices in India, which are used by thousands of happy customers every day. They've worked on projects for companies that operate in a variety of industries including hyperlocal delivery, food ordering & delivery, healthcare, education, and more. They're working with Shopify's platform to develop new features for Shopify merchants and will be supporting Shopify's businesses with their online stores. They're really excited about working with Shopify's platform because it has so many great businesses using it and they're looking forward to providing them with the best possible experience when they're selling their products.
Also Read: Top 10 Metaverse Development Companies
Rank #10. Redwerk: Offshore Software Development Company
Redwerk is an offshore software development company that uses remote work to bring affordable, high-quality software and technical services to businesses. They are a team of professionals with over 20 years of experience in developing solutions for web and mobile projects. They believe in quality assurance, client satisfaction, and sustainable growth. Since 2011 they have been working with clients from the US, Europe, and Australia building custom eCommerce websites & mobile apps using clean code standards which helps to ensure the longevity of our products. With access to talented developers at an affordable price, Redwerk provides a range of services such as Search Engine Optimisation (SEO) Website Design & Development of Mobile Apps Web Hosting Website Maintenance Outsourcing Support & Maintenance (Outsourced IT).
Also Read: Top 20 Python Development Companies for Web and Software Development
Top 50 offshore software App development companies
Light IT
Altoros Labs
iTechArt Group
Light-it Health
Huboxt
Surf
Orangesoft
S-PRO
SmartSites
Digital Silk
Huemor
itCraft
Armada Labs
Praxent
SiliconMint
2muchcoffee
Altamira
WANDR
Emizentech
Dev Technosys
DreamSoft4u
Miquido
Zibtek
Qulix Systems
Diffco
Shinetech Software Inc
LaSoft
Outcrowd
GroupBWT
Jelvix
TRIARE
KindGeek
Cuelogic
TatvaSoft
QArea
ExiSTEK
eiosys
Adreno Technologies
MSBC
Belitsoft
Finoit
Confianz
Vofox Solutions
Majestic People
BairesDev
Bacancy Technology
GirnarSOFT
TO THE NEW
VALUE CODERS
Conclusion
It's clear that there are a lot of factors to consider when choosing an offshore software development company. Before you make your decision, make sure you're prepared for the following tasks:
conducting a market survey,
evaluating the cost and schedule,
assessing the competence of the technical team,
reviewing the communication channels, and selecting the right approach.
These 50 companies have been selected because they're industry leaders in offshore outsourcing, with years of experience developing custom software for clients around the world. They have also demonstrated expertise in mobile app development and are known for their responsiveness and commitment to customer service.
Finding the best offshore software development company is not an easy task. Read our guide to choosing the right partner and how to approach your next project.
Hence, these are just a few of the companies that specialize in offshore software development. There are many others out there who do this as well! If you don't see what you're looking for here, reach out to us at [email protected]
Recommended Reading