Welcome to the Just Create App. Today we will look at the top logo design companies in the USA. Because the logo is a major concern right now. And it's been fulfilling its role as a crucial aspect of the business. So let's start with a short introduction of Logos' importance.
A logo is really the only unique feature of any company or brand, and its design is critical to its success. With their logo, customers can identify the company. Some businesses are better known for their logs than for their actual names. It aids in attracting consumers or customers to a brand or company's logo. The company's logo serves as a visual representation of what the company stands for. There are many valid logo design companies. But you know that your business deserves the best in both quality and attractiveness. For that Just Create App has a list of the best branding agencies and logo design companies to help you with it as well.
So, I hope you find this article useful if you want to generate company logo.
The Top Logo Design Companies
Due to the tremendous number of companies offering LOGO design services. After a lot of research, Just Create App decided to set the best one for you. We made an effort to remain as unbiased as possible. A list of the best logo design companies is given below.
1. Deluxe – Best Logo Design Company
Deluxe is the world's leading provider of logo production services for disseminating business offers around the world. You can count on them to meet deadlines because they offer quick and comprehensive service. The creators of the deluxe's design team have created something truly out of this world. The company demonstrates the global demand for professional logo design. There are a number of technology and design organizations that depend on Deluxe and its services.
This is one of the best logo and brand design companies. When it comes to postcards, logos, print design services, tri-fold brochures, web design, and more, this company should be your only and final option. With a guarantee, 24/7 customer service, and a unique custom design that you can call a trademark, they provide their customers with a level of satisfaction that is unparalleled. In the last ten years, they've served over 25,000 satisfied clients.
It's safe to say that eDesign Interactive is at the top of the list of top logo design and branding companies. In the world of logo design, the team has surpassed all expectations with their preposterous abilities and creativity. To be a client of eDesign Interactive, one feels thrilled by the company's long history of meeting the needs of its customers.
Your logo and branding projects will benefit greatly from using this service. So, for drive more traffic to your website, you'll want digital advertising that raises awareness of your brand and draws in a wide audience. For this reason, eDesign has won numerous awards for its work on award-winning websites as well as on interactive landing pages and social media campaigns.
4. LogoWorks- Best For Logo Design
If you're looking for one of the best branding agencies, then this is it.
Among their staff are online graphic designers who specialize in logo designing, as well as in business branding. To meet the customer's needs, they put in long hours and do their homework. and to ensure that they comprehend the needs of each and every client. They create stunning logos that give the impression that they are more than just a design. the company's core values and beliefs are reflected in it. Your business will look better and more appealing if you hire this company. People are drawn to your business because of its unique qualities. It is the best logo design company.
Also Read: 10 Ways to Make Money in the Metaverse
5. Maxburst, Inc- A Logo Design Company, USA
This is one of the most innovative and creative barding agencies, and the team and the agency value your input. Your brand's culture is reflected in every aspect of your business, and your employees respect that. So, they put in a lot of effort just to live up to the customer's expectations. and to make certain that no small detail is overlooked. Internet-based solutions are a specialty of theirs.
In 2003, the company was established in order to offer high-quality web design services. They care deeply about their customers' work and business dealings. MAXBURST was created to aid in the growth of your company's brand and the creation of deeper connections with your customers.
Also Read: Top 10 Fastest Growing IoT Companies
6. Hudson Integrated- Best For Logo Design in the USA
While talking about innovative logo design firms, Hudson Integrated is one that comes to mind. For the purposes of building brands, Hudson contributes originality and creativity. it is known as one of the best branding agencies.
Hudson Integrated collaborates with clients to complete tasks. And to design a brand that the client can be proud to call his own with utmost efficiency.
So, as a bonus, they also offer a service that many companies are looking for: affordable logo design.
Also Read: Top Graphic Design Companies in USA
7. Lounge Lizard- The Logo Design Company
Lounge Lizard is the best company for logo design. So, it is always able to serve up something better and best. An amalgam of effective elements from the fields of digital marketing and logo design, Customized solutions are also offered as part of the package. When it comes to creating a logo for your business. Now, you're in good hands when you work with one of the best branding companies in the country.
Lounge Lizard has the creative ideas to help you establish your company's identity.
Also, see the Top 6 Flyer Maker Apps.
8. Logo Shines- Best For Logo Making
A company that hires a team of professional designers is Logo Shines. For this reason, they're often referred to as "enthusiastic" workers. They are making every effort to ensure that the project receives positive feedback.
In addition, they strive to meet the needs of their customers. For Logo Shines, the goal is to showcase the best in design. which includes logo design services at a reasonable price. such as new companies, small businesses, or large corporations. As a result of hiring only the best graphic designers, Logo Shine is a successful company.
Also read: What is blockchain-Based Identity and Management?
9. Dotcomweavers- The Best Logo Making Company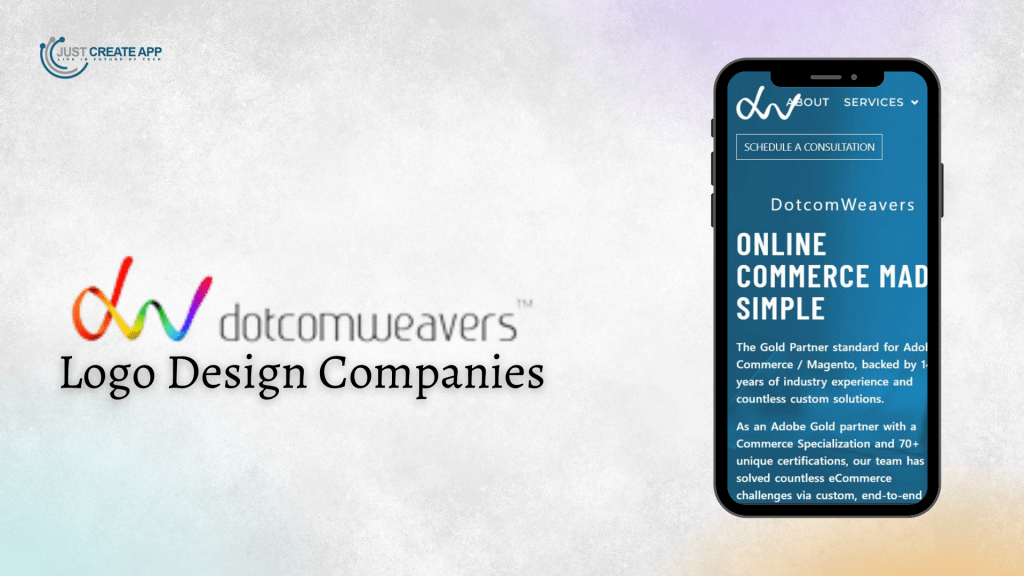 The company that understands the importance of your reputation. The power of logo design and social media exposure can earn the identity. So, the DotcomWeavers is a company that aids you in creating a brand. Dotcomweavers' knowledgeable designers are always available to assist customers. And it helps you meet specific business requirements. So, as your business grows, Dotcomweavers will help it cross the finish line.
Also Read: How to create Blockchain Messaging App?
10. Sign Design, Inc- Top Logo Design Company
The company is considered the best logo design company.
Start to finish" is the slogan they use.
Sign Design, Inc.'s staff brings a wealth of knowledge and expertise to the table. These in-house services allow customers to benefit from a wide range of options. It doesn't matter if the client wants to produce just one sign or if they need to replace an existing sign. So, these requirements can be met by this company. This company is referred to as a one-stop-shop for all your signage, graphics, and branding needs. Since 1988, the company has been aware of the importance of going the extra mile to ensure customer or client satisfaction.