Managing a sales pipeline, keeping in sync with all communication channels, analyzing sales tactics and making data-driven decisions is an intellectual and a time-consuming task for every business out there. Sales and marketing teams give in all efforts to get the attention of maximum output, convert leads and nurture them. Today, in the immersive era of digitization, a lot of teams are still performing all these activities manually, somewhere falling behind in the competition. 
To drive better results, the supply of the right tool at the right time is necessary. And there is never a wrong time to revolutionize the old boring processes and provide your teams with the power of marketing automation tools. 
But what's the right tool that any business can look up to? Easy!
Indubitably, it's Salesforce Pardot, or we can now say it's Salesforce Marketing Account Engagement. If you've already started searching for the best one, Pardot might've caught your attention. As one of the most robust and powerful marketing automation tools by Salesforce, Salesforce Pardot has become a go-to solution for businesses wanting to automate their marketing efforts, regardless of industry or size.
What is Salesforce Pardot, and how does it help in marketing automation: all are answered in this blog. Find out and equip your teams with what's best and trusted by other businesses. 
What is Salesforce Pardot?
Salesforce Pardot is a B2B marketing automation tool that empowers businesses to establish lasting, meaningful relationships, generate a better sales pipeline, boost sales, and whatnot. 
Pardot is a complete combo of industry-grade B2B Marketing Automation tools that helps teams streamline the process quickly and efficiently.
Marketing Cloud Account Engagement empowers businesses to achieve scalable B2B marketing and sustained growth through seamless sales and marketing alignment. Sales representatives can confidently hand off leads with enhanced visibility into prospect engagement.
Additionally, Salesforce Account Engagement connects marketing technology and delivers data-driven insights, streamlining lead and account management processes.
Salesforce Pardot Features
Check out some prime features of Salesforce Pardot and how each one of them is contributing to delivering the desired results: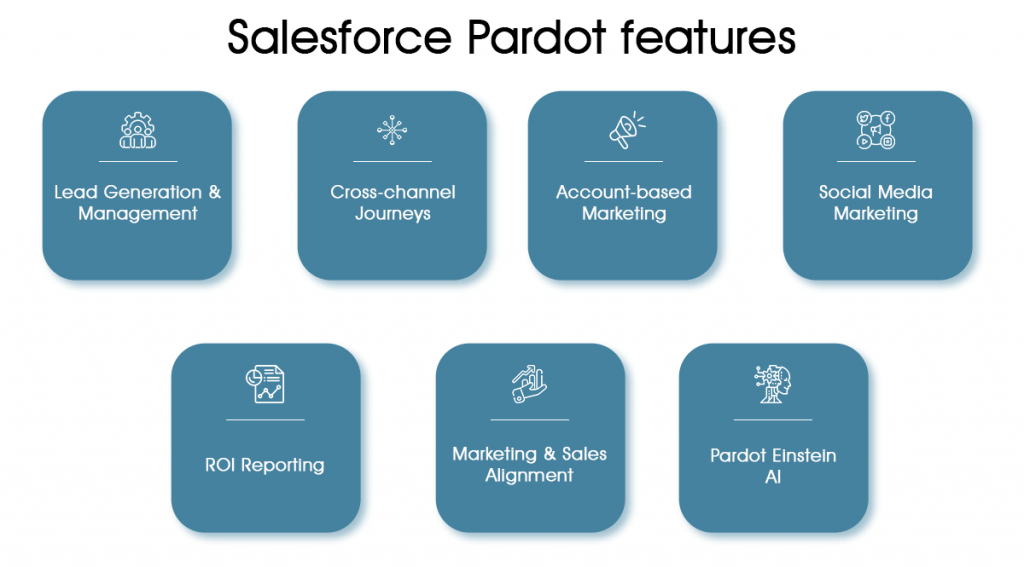 1. Lead Generation & Management 
With Salesforce Pardot, businesses can grab customers' attention and capture many leads. They can put a lot of resources to work, like landing pages, webinars, events, and more. You can score and prioritize leads depending on their engagement levels and assign them to the right sales representatives automatically.
2. Cross-channel Journeys
Pardot allows marketers to curate multi-channel personalization journeys for customers and perspectives through SMS, Social Media, email, website, etc. Cross-channel journey builder creates and automates customized journeys for nurturing leads, driving better conversions and maximizing revenues. 
3. Account-based Marketing
Pardot allows businesses to target and engage key accounts with personalized content and messaging. With Pardot's account-based marketing (ABM) features, you can identify and prioritize high-value accounts, create targeted campaigns, and measure the impact of your efforts on revenue growth.
4. Social Media Marketing 
Pardot enables businesses to manage and measure their social media marketing efforts across multiple platforms, such as Twitter, Facebook, and LinkedIn. With Pardot, you can schedule and publish social media posts, track engagement and conversions, and measure the impact of your social media campaigns on revenue growth.
5. ROI Reporting 
Pardot provides comprehensive reporting and analytics capabilities that enable businesses to measure the ROI of their marketing campaigns. With Pardot, you can track lead sources, campaign performance, conversion rates, and more to gain insights into what's working and what's not.
6. Marketing & Sales Alignment 
Pardot enables businesses to align their marketing and sales teams around shared goals and objectives. With Pardot's robust collaboration and communication features, you can streamline lead handoffs, track sales pipeline activity, and ensure that marketing and sales work together effectively to drive revenue growth.
7. Pardot Einstein AI 
Pardot Einstein AI is a suite of artificial intelligence tools that help businesses to automate and optimize their marketing and sales processes. With Pardot Einstein, you can leverage AI-powered lead scoring, predictive analytics, and automated campaign recommendations to drive more conversions and revenue.
How does Pardot help in Marketing Automation
Pardot provides businesses with various tools and features to help automate and optimize their marketing efforts. Some of the key ways Pardot can help businesses improve their marketing automation include:
1. Less Efforts. More Leads. 
By creating attractive landing pages and forms with the help of landing page templates & drag-and-drop builders, you can capture as much lead as possible. Forms can be set to trigger notifications and automatic lead scoring, resulting in the constant presence of leads in your pipeline.
You can also showcase targeted offers on different landing pages of your website.
Furthermore, you can build enriched profiles with engagement and social media data, bringing escalated social profiling.
2. Smarter & Faster Engagement 
Before launch, it's crucial to visually map out and test all assets and touchpoints to better understand the customer journey. One option is utilizing a powerful and flexible builder to create customized experiences through dynamic campaigns that adapt to customers' buying signals.
Moreover, Pardot's blended lead scoring and grading system can automate lead management, allowing sales reps to focus on the most promising leads first.
Automated email triggers can be established to nurture leads, and the relevant reps can be notified promptly based on prospect activity. Additionally, sales reps can improve their marketing capabilities with the help of marketing-approved mini-campaigns.
3. Seamless Uninterrupted One-on-One Connections with Customers
Automated audience segmentation based on various demographics such as age, location, and industry, among others, enables the launching of targeted email campaigns on a large scale. Personalized emails can be crafted using an intuitive email editor, customizable signature, and dynamic content that resonates with the audience.
Furthermore, each email can undergo A/B and spam testing and be dynamically modified according to the lead's score, grade, industry, job title, and other relevant factors. Triggers and autoresponders can be set up to automate email delivery based on prospect activity. By equipping sales reps with visibility into the customer engagement history, insights, and marketing-approved content, they can initiate more pertinent conversations.
4. Track Everything: From Campaign Performance to Marketing Influence
Visual reporting and graphical dashboards can be used to gain insights into the performance of sales and marketing campaigns. This makes identifying the top-performing emails and templates easier, ultimately maximizing ROI. Engagement and Lifecycle reports can provide information on the health of the sales cycle and highlight where prospects are getting stuck in the sales funnel.
Moreover, off-the-rack attribution modules, including first touch, last touch, and even, can be used by marketers to track and demonstrate marketing influence across the sales cycle.
Conclusion
Powerful automation can significantly impact how businesses interact with their customers, generate leads, and enhance the effectiveness of their marketing efforts.
This tool, Pardot, can be your next catch to not lose valuable customers. Why not try it independently and see all the wonders in your business?
Connect with a certified and experienced Salesforce Integration Service Provider like Cyntexa, having expertise in Salesforce Pardot Implementation. They have many Salesforce Pardot Specialists who have successfully implemented pardot and helped businesses experiencing a high number of convertible leads.
Beat that business who have not realized the potential and importance of pardot and trample all over the game to earn first-comer benefit.
Book a call with experts today.