In today's digital world, finding help for everyday tasks has become easier than ever before, thanks to online platforms like TaskRabbit. TaskRabbit connects people who need a job done with skilled individuals ready to help. However, while TaskRabbit is great, it's not perfect. Some people might find it doesn't cater to their specific needs or perhaps it isn't available in their area. That's why many are on the lookout for the best apps like TaskRabbit.
These alternative apps can offer more options or better suit individual preferences and locations. In this article, we'll explore nine fantastic apps that serve as worthy alternatives to TaskRabbit, making it easy for you to find the help you need, whenever you need it.
The Future of Gig Economy Platforms
The future seems bright, with various statistics and trends reflecting a steady growth and positive outlook.
Growing Workforce
In the US, 16.4% of the workforce comprises gig workers, showing a significant portion of individuals gravitating towards flexible work arrangements​.
By the end of 2020, it was projected that 43% of workers in America would be participating in the gig economy​.
Economic Impact
The gig economy in India is still emerging, yet it's expected to soar to a whopping $455 billion by 2024, indicating a strong economic impact not just in established markets but also in developing economies​​.
Job Satisfaction and Work-Life Balance
A survey revealed that gig workers are generally happier with their jobs compared to non-freelancers (77% vs. 70%). They enjoy more freedom to choose the freelance work they prefer (75% vs. 61%), and report a better work-life balance (74% vs. 67%)​​.
Rapid Expansion
The gig economy grew by 33% in 2020, expanding at a pace 8.25 times faster than the US economy. This rapid expansion is fueled by a variety of professionals including independent contractors, freelancers, entrepreneurs, influencers, and others who favor a flexible work schedule​.
Diverse Opportunities
Gig economy platforms are not just for manual labor or simple tasks; they encompass a wide array of professions. From digital marketing experts to software developers, many professionals are finding opportunities in the gig economy, which is likely to continue diversifying in the future.
What is TaskRabbit?
TaskRabbit is a convenient online marketplace where people can find skilled workers to help with various tasks and odd jobs. Whether it's cleaning, moving, delivery, or handyman work, TaskRabbit connects individuals with reliable taskers to get the job done efficiently and at a reasonable cost.
Related to you? Best Apps Like Brigit For Instant Cash Advances in 2024
How TaskRabbit Works for Users and Taskers
Creating an Account: Both users and taskers start by creating an account on the TaskRabbit platform, filling out necessary details and preferences.
Posting a Task (for Users): Users post the task they need help with, providing a clear description, location, and the price they are willing to pay.
Browsing and Accepting Tasks (for Taskers): Taskers browse through the listed tasks and can choose to accept the ones that match their skills and schedule.
Completion of Task: The tasker completes the job as per the provided details. Communication is facilitated through the app to ensure clarity and satisfaction.
Payment and Reviews: Once the task is completed, payment is processed through the app, and both users and taskers have the opportunity to leave reviews, enhancing the community trust on the platform.
Are you looking for: Best Apps Like Brigit For Instant Cash Advances in 2024
How Much Does TaskRabbit Cost?
The cost on TaskRabbit can vary based on the type of service you need, the expertise of the tasker, and your location. Each tasker sets their own hourly rates, and there's also a booking fee. It's easy to get a cost estimate on their platform before you commit to anything, ensuring you find help within your budget.
Why Look for Alternatives?
TaskRabbit is indeed a reputable platform, but it does have its set of limitations. For instance, the geographical restrictions and service fees can be a hurdle for many. This brings us to the quest for finding TaskRabbit alternatives that break these barriers and provide an equally efficient service, if not better. The idea is to offer readers an insight into other options that could better suit their individual needs, potentially providing a more localized or affordable solution for getting tasks done.
Exploring alternatives also opens up a realm of possibilities, allowing users to discover platforms that might offer a wider variety of services or better customer support.
Also Read: Apps like Earnin
What to Look for in TaskRabbit Alternatives?
When searching for apps like TaskRabbit, it's important to keep a few things in mind. Look for a wide range of services, an easy-to-use interface, and low costs. Also, check if there are good reviews and ratings for the app. It's a plus if the app is available in your area, has helpful customer service, and makes it easy to book and manage tasks. These features will help you find a good alternative to TaskRabbit that fits your needs well.
here are some more points that could be considered when looking for TaskRabbit alternatives:
Ease of Payment: Look for platforms that have secure and straightforward payment processes. They should offer various payment options like credit cards, debit cards, or mobile payments for added convenience.
Service Guarantee: A good alternative should have some form of service guarantee or insurance to protect you in case of any mishaps during the task execution.
Transparent Pricing: Look for platforms that provide clear pricing guidelines to avoid any hidden fees or unpleasant surprises.
Mobile Accessibility: A user-friendly mobile app for both Android and iPhone users, allowing you to book services on the go.
Customer Support: Robust customer support that's accessible and responsive, ensuring all your concerns and queries are addressed promptly.
Verified Providers: Platforms that have a rigorous verification and background check process for service providers to ensure safety and quality of service.
Customizable Services: The ability to tailor services to your specific needs is an advantage, ensuring you get exactly what you require.
Community Feedback: Platforms with a strong community feedback system can help you make informed decisions based on previous customer experiences.
Learning Resources: Some platforms provide resources to help users and service providers get the most out of the platform, like how-to guides or tutorials.
Promotions and Discounts: Look for platforms that offer promotions, discounts, or loyalty programs that can help save money on services.
Also Read: Top Apps like Airbnb
9 Best Apps Like TaskRabbit
Looking for the best apps like TaskRabbit? It's all about finding a good place where you can either share your skills or get someone to help with tasks. Each app has its own special features, helping different needs and places. Whether you want to earn some extra cash or need a hand with chores, these TaskRabbit alternatives are here for you. Let's dive into these apps and find the one that fits your needs the best.
1. Thumbtack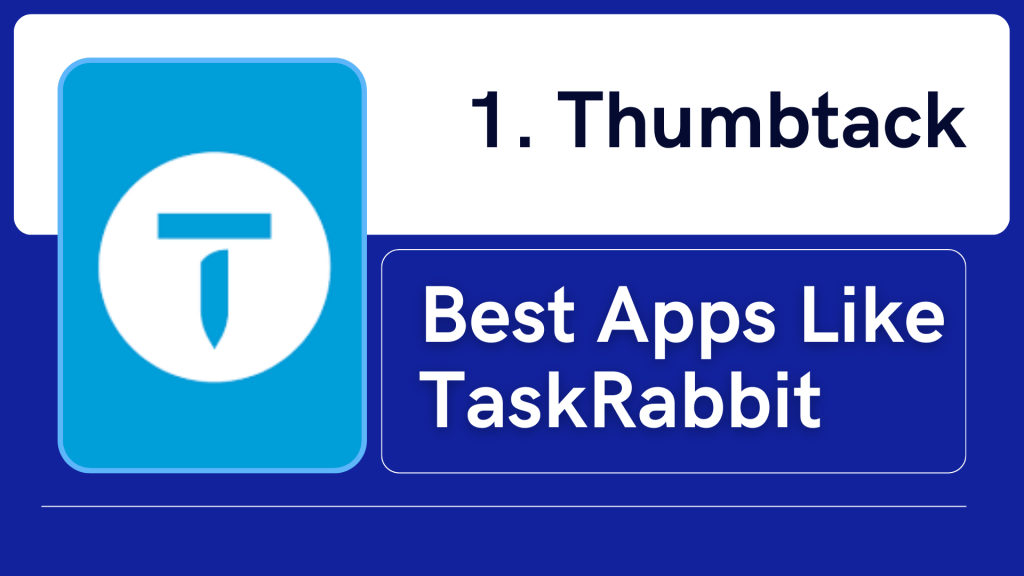 Thumbtack is a friendly platform that makes it easy to connect with local experts who can help complete personal projects or professional jobs. It covers a wide range, from fixing a leaky faucet to planning a big wedding. It's like having a helpful neighbor, just in the digital form. You put in what you need, and it gives you a list of people who can help, along with their reviews and estimated costs.
Platform Features
Browse and hire professionals from various fields.
Receive custom quotes within hours.
Reviews and ratings system to ensure quality.
In-app messaging for seamless communication between clients and service providers.
Geographic Availability
Thumbtack is available in all 50 states across the USA.
User Feedback
Users appreciate the platform's ease of use and the wide range of services offered. However, some mention that the platform fees can be a bit high.
---
2. Jobble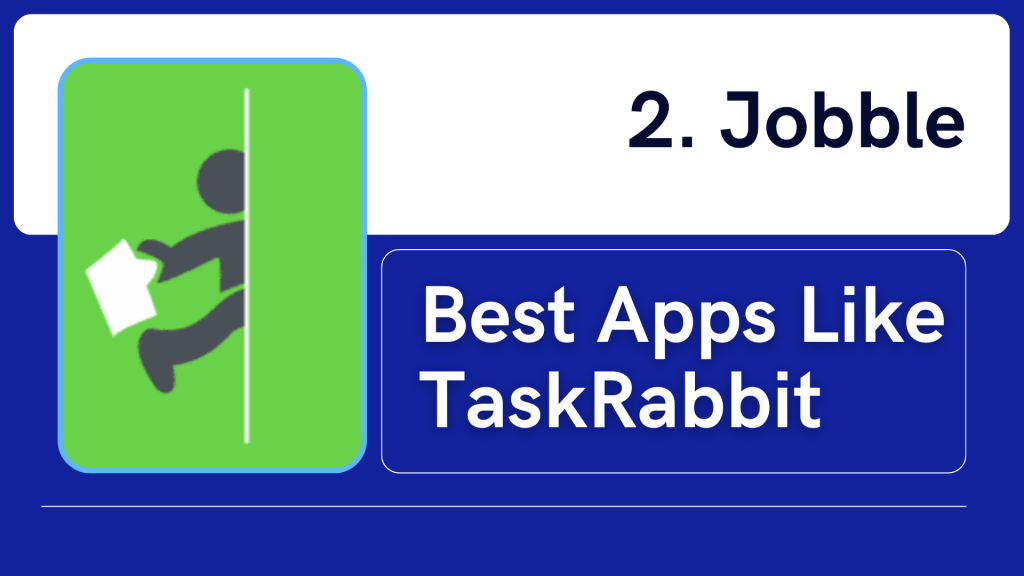 Jobble is like a bustling marketplace for temporary jobs. Whether you're a business looking for extra hands during a busy season, or someone with spare time wanting to earn some extra cash, Jobble brings both together. It offers a simple, straightforward way to post or look for jobs, making the whole process less stressful and more productive. It's a great space for those looking to step into the gig economy.
Platform Features
Job postings for a variety of temporary and part-time gigs.
Easy application process with real-time job matching.
Profiles showcasing experience and skills.
In-app messaging for direct communication between job seekers and employers.
Geographic Availability
Jobble is available across the USA.
User Feedback
Users often highlight the user-friendly interface and the variety of job opportunities available. Some users wish for a broader geographic availability outside the USA.
Also Read: Apps like Doordash
---
3. Wonolo
Wonolo is an engaging platform designed to connect businesses in need with a ready and willing workforce. It's a place where you can find work for the day or hire someone to help with urgent tasks. The platform shines in its simplicity, allowing users to either post or pick up gigs without a hitch. It's about filling the gap swiftly, be it a delivery job or a warehouse shift, Wonolo is there to fill in.
Platform Features
Wide range of job categories from warehousing to delivery.
Real-time job notifications.
Transparent ratings and reviews system.
Quick payments post-completion of jobs.
Geographic Availability
Wonolo operates in various cities across the USA.
User Feedback
The platform is praised for its flexibility and prompt payments, though some users mention a desire for more job availability in certain regions.
---
4. Care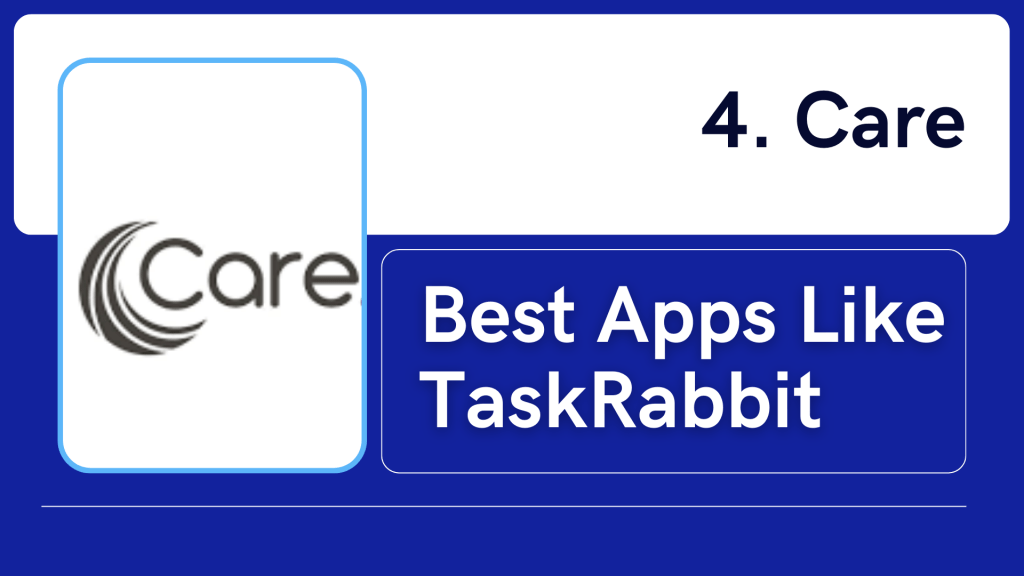 Care.com is like a dependable friend you turn to when you need care for your loved ones, be it children, elders, or pets. It's a platform filled with caregivers ready to offer their services. Not just that, you can also find people to help with household chores. It's a go-to place to find reliable help, making life a bit easier when juggling between work and home responsibilities.
Platform Features
Detailed profiles of caregivers with reviews and ratings.
Secure messaging system.
Background checks for added safety.
Easy search filters to find the right caregiver.
Geographic Availability
Care.com operates in the USA and several other countries worldwide.
User Feedback
Users find the platform reliable for finding caregivers, though some mention the subscription fee for premium features as a downside.
Also Read: Med School Apps For Medical Students
---
5. Nextdoor
Nextdoor is like the community bulletin board, but in a digital format. It's where neighbors come together to offer and seek help, sell items, or simply catch up on local news. It's a hub for all things local. Whether you need a babysitter for the weekend, looking to sell your old couch, or wanting to know about the neighborhood garage sale, Nextdoor is the platform that brings the community closer, right from the comfort of your home.
Platform Features
Neighborhood-specific networks for localized service offerings.
Varied categories for services, sales, and community updates.
Verification process for added security.
User-friendly interface to connect with neighbors.
Geographic Availability
Nextdoor is available in the USA and several other countries.
User Feedback
The community-centric approach is appreciated by users, though some mention concerns about privacy and suggest a more robust verification process.
Apps Like TaskRabbit for iPhone
If you are an iPhone user, and looking for best apps like TaskRabbit for iPhone, there are two platforms that stand out. These platforms not only offer a wide range of services but also come with user-friendly interfaces making it easy for you to get the job done. Let's delve into the top 2 platforms for iPhone users.
6. Handy: Best Apps like TaskRabbit for iPhone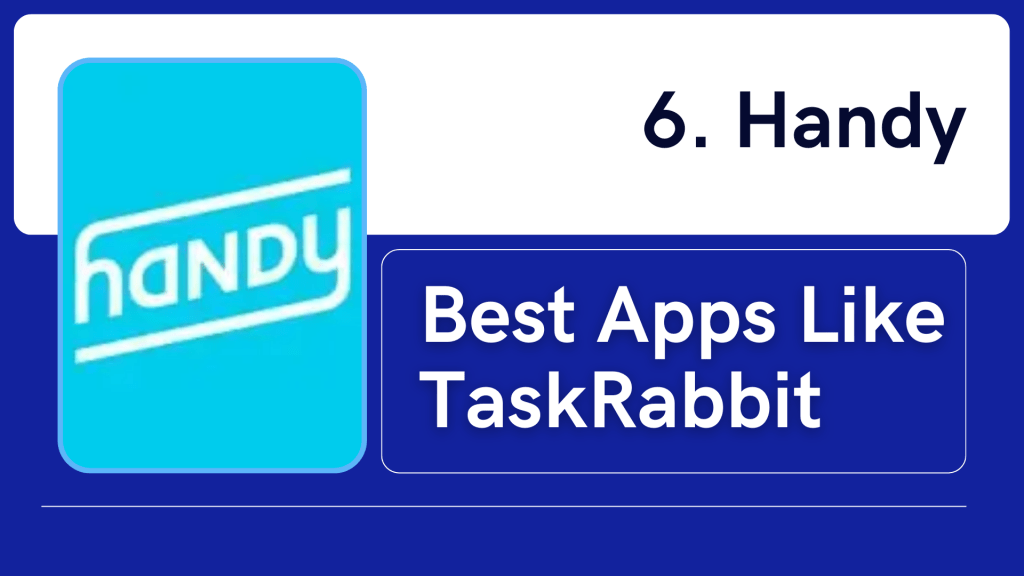 Handy is a platform that connects individuals with experienced professionals for home services. Whether you need a cleaning service, plumbing, electrical work, or other home-related tasks, Handy has got you covered.
The app has a straightforward process: you simply put in your zip code, describe the task, and get connected with a local professional. With Handy, you can schedule your service as per your convenience, making it a flexible option for those with tight schedules. It's a reliable platform known for providing skilled professionals to get the job done right.
Platform Features
Easy-to-use interface with quick booking functionality.
Wide range of home services including cleaning, plumbing, electrical, and more.
Flexible scheduling according to your convenience.
Secure payment system within the app.
Geographic Availability
Handy operates in many cities across the United States, Canada, and the UK.
User Feedback
Users appreciate the professionalism and expertise of the service providers.
Some users have mentioned the ease of rescheduling or canceling bookings.
Also Read: Apps Like Omegle
---
7. Pro Referral App: Best Apps like TaskRabbit for iPhone
Powered by The Home Depot, Pro Referral App is another fantastic platform for iPhone users. This app is designed to help you find top-notch professionals for all your home improvement needs.
From fixing a leaky faucet to remodeling your kitchen, Pro Referral can connect you with the right experts. The beauty of Pro Referral is that it leverages The Home Depot's network, ensuring you get connected with trustworthy and experienced professionals.
Additionally, the app also allows you to earn rewards on every purchase which is a sweet deal.
Platform Features
Seamless connection with top-notch professionals for home improvement tasks.
Leveraging The Home Depot's network for a reliable service provider base.
Reward system for purchases made, adding a bonus to your home improvement projects.
Detailed profiles of professionals including reviews and ratings.
Geographic Availability
Pro Referral has a wide reach owing to its association with The Home Depot, serving numerous locations across the United States.
User Feedback
Users often commend the quality of work and the expertise of the professionals.
The reward system is also appreciated for its added benefits on every purchase.
Both Handy and Pro Referral App stand as robust alternatives for individuals seeking reliable platforms for their task needs. With these platforms, iPhone users are merely a few taps away from solving their home-related challenges efficiently.
Also check the list of Best Hookup Apps And Sites | Adult Dating Apps.
Apps Like TaskRabbit for Android
8. Fancy Hands: Best Apps Like TaskRabbit for Android
Fancy Hands stands as a remarkable assistant service platform, easing your daily task management. Whether it's scheduling appointments or handling calls, Fancy Hands is there to assist. The platform is designed to take the load off your shoulders, providing a reliable set of hands to tackle your to-do list, making your life simpler and more organized.
Platform features
Task management tools
Customizable plans for different needs
In-app communication for seamless coordination
Geographic availability
Primarily available in the US, with some services accessible globally.
User feedback
Users applaud the responsive assistance and the time saved on routine tasks.
9. Porch: Best Apps Like TaskRabbit for Android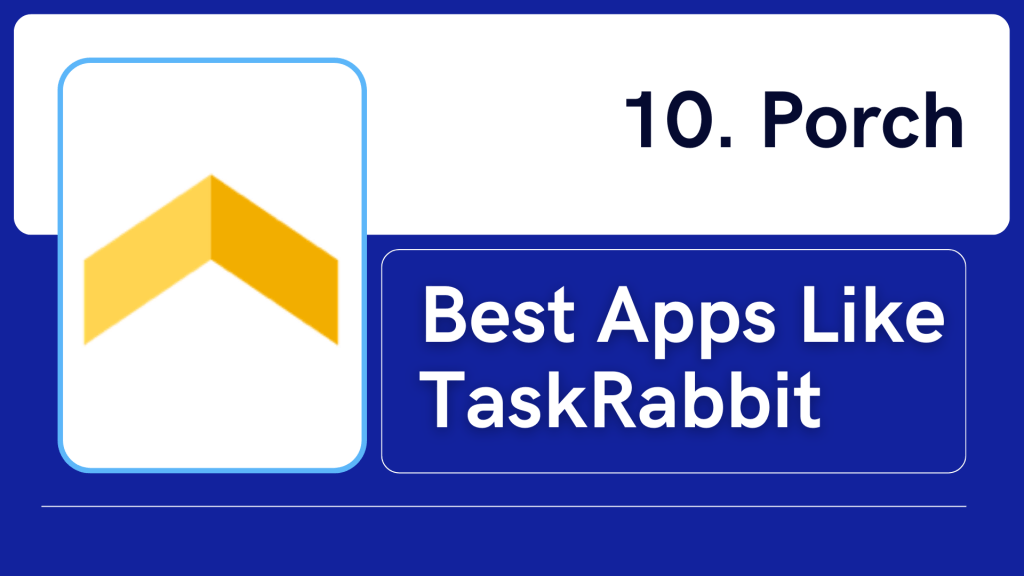 Porch is a home-improvement haven. From finding the right professionals for a renovation project to small repair jobs, Porch simplifies home services. With a vast network of professionals and a user-friendly interface, it becomes a go-to solution for homeowners looking to streamline the process of home improvement and maintenance projects, ensuring a hassle-free experience.
Platform features
Broad range of home service categories
Detailed professional profiles
Project cost estimations
Geographic availability
Extensively available across the US.
User feedback
Homeowners appreciate the reliable recommendations and the quality of professionals found on the platform.
For you: Cash Advance Apps Like MoneyLion
Best TaskRabbit Alternatives & Competitors 2024
| Platform | Service Offerings | Pricing Model | User Interface (iOS/Android/Web) | Unique Features | Website Link |
| --- | --- | --- | --- | --- | --- |
| Thumbtack | Home services, Lessons, Wellness | Quote-based | iOS/Android/Web | ProFinder technology | Thumbtack |
| Jobble | Event staffing, Retail, Warehousing | Variable | iOS/Android/Web | Job matching engine | Jobble |
| Wonolo | General staffing, Event, Warehousing | Variable | iOS/Android/Web | Fast job fulfillment | Wonolo |
| Care | Child care, Senior care, Pet care | Subscription | iOS/Android/Web | Comprehensive care options | Care |
| Nextdoor | Local services, Community connections | Free | iOS/Android/Web | Neighborhood networking | Nextdoor |
| Handy | Home cleaning, Handyman services | Flat-rate | iOS/Android/Web | Pre-priced services | Handy |
| Pro Referral | Home improvement services | Quote-based | Web | Powered by The Home Depot | Pro Referral |
| Fancy Hands | Virtual assistance | Subscription | iOS/Android/Web | Custom task requests | Fancy Hands |
| Porch | Home services, Home improvement | Quote-based | iOS/Android/Web | Project cost guides | Porch |
Top Free Alternatives Apps Like TaskRabbit
While TaskRabbit has been a dominant player, there are also free alternatives that cater to budget-conscious individuals.
Free platforms offer a similar bridge between service seekers and providers without the added cost. However, they may come with certain limitations compared to their paid counterparts, such as fewer features or a smaller user base. Here are some notable free apps:
Zaarly: A local service marketplace that connects you with trusted service providers in your community.
Fiverr: While not entirely like TaskRabbit, Fiverr offers a wide range of freelance services at a very competitive price, and sometimes even free.
Facebook Marketplace: Not a dedicated gig platform, but a place where individuals can offer or seek services within their local communities.
Takl: Takl is a platform where you can find help for small jobs and chores. Though it may have some in-app purchases, the basic usage is free allowing you to connect with local service providers for a variety of tasks.
Peer Hustle: Peer Hustle is a localized freelancer app, allowing individuals to find nearby freelancers for various gigs. It's more geared towards digital and design jobs but has a range of categories to explore.
Comparing Platforms: Thumbtack vs TaskRabbit vs Handy
In this section, we'll delve into a straightforward comparison to help you understand the key differences between these popular gig platforms. We'll explore the services offered, the regions they operate in, and the cost associated with each, making it easier for you to decide which platform suits your needs the best.
| Features | Thumbtack | TaskRabbit | Handy |
| --- | --- | --- | --- |
| Service Offerings | Home services, Lessons, Events | Handyman, Cleaning, Moving | Home cleaning, Handyman services |
| Geographic Availability | USA | USA, UK, Canada | USA, Canada, UK |
| Pricing | Varies by service | Varies by task | Flat rate pricing |
| Platform Fees | Varies by professional | 15% service fee | Varies by service |
| User Interface | Intuitive | User-friendly | Simple and Easy to use |
| Reviews and Ratings | Yes | Yes | Yes |
| Mobile App Availability | Yes (iOS, Android) | Yes (iOS, Android) | Yes (iOS, Android) |
| Customer Support | Yes | Yes | Yes |
Final Words
With a myriad of best apps like TaskRabbit available at your fingertips, finding the right platform has never been easier. It's all about aligning with a platform that resonates with your needs and ensures a seamless, safe, and satisfactory service experience.
FAQs
Are these platforms safe to use?
Yes, most of these platforms have stringent verification processes for service providers ensuring a safe experience for users.
How do I ensure a good experience when using these apps?
Reading reviews, communicating clearly with service providers, and following the platform's guidelines can lead to a positive experience.
What are the main differences between TaskRabbit, Thumbtack, and Handy?
Each platform has its own set of services, fees, and geographic availability which differentiates them from each other.
Which platforms are free to use?
Some platforms offer free usage with optional in-app purchases for a better experience.
Are there any other emerging platforms like TaskRabbit?
Yes, the digital landscape is continuously evolving with new platforms emerging to cater to the gig economy.